Mukti Bhawan: Check-in to Hotel Salvation for the last time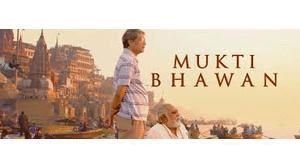 An aging man (Lalit Behl) wishes to go to Benares to end his days. His son (Adil Hussain) does not like the idea.The moment the son and dad get down from the rickshaw, they witness squalor and dirt in Benares. The dad is oblivious to the environment, as the dream of his coming end. The son is so much aware of the dirt and squalor. The opening scenes where the protagonist enters "Mukti Bhawan" or "Hotel Salvation" is one of the most haunting. As the son trudges with his father to the Mukti Bhawan; you experience the consummation of the life of generations of Indians. For years the young and the family bring the old to the hotel, as the dialogue in the movie says" Death is a process."
They are greeted by the in charge; who is strict to the point of humor. The cinematography takes a dig in the story like you have entered a cave. The decrepit, crying walls still feel holy. Death is all over, there is a celebration. But, like the Buddhist philosophy; suffering is ingrained, which can be made a celebration. Mukti Bhawan is a similar metaphor. The film is a slow, grinding watch into the mind of the father and son. The father quickly gets angry, when his son is not paying attention during the meals; or does not bring the milk. There are moments of deep love between the father and son, which was hidden for so long. The son tries to break the ice, come closer; but it is only to the end that they become one family again. The movie does stand out for the roles of each character. Lalit and Adil keep you glued to the screen with their emotiveness. The scenes in the film have arranged in such a way that, if you remix them, they could still fall into the film. This could be because the director has stressed more on the environment of the film, the environment of the dialogues and environment of the acting. Such method surely builds that freedom in art, to be remade in many ways. The film is also a brilliant example of filmmaking. All the actors have justified the roles. Geetanjali Kulkarni also keeps you glued with her performance after " Court." The actors have taken time to keep their emotiveness on stage. Its real, it practical; it's life like. The slow quarrels of family, marriage and office pressure are all lifelike. They feel home! Mukti Bhawan is a must watch.
Cast: Lalit Behl, Adil Hussain, Palomi Ghosh, Geetanjali Kulkarni, Navnindra Behl, Anil K Rastogi
Director: Shubhashish Bhutiani